5 Jun 2018
Center Amends Motor Accident Compensation Scale Under No-Fault Liability [Read Notification].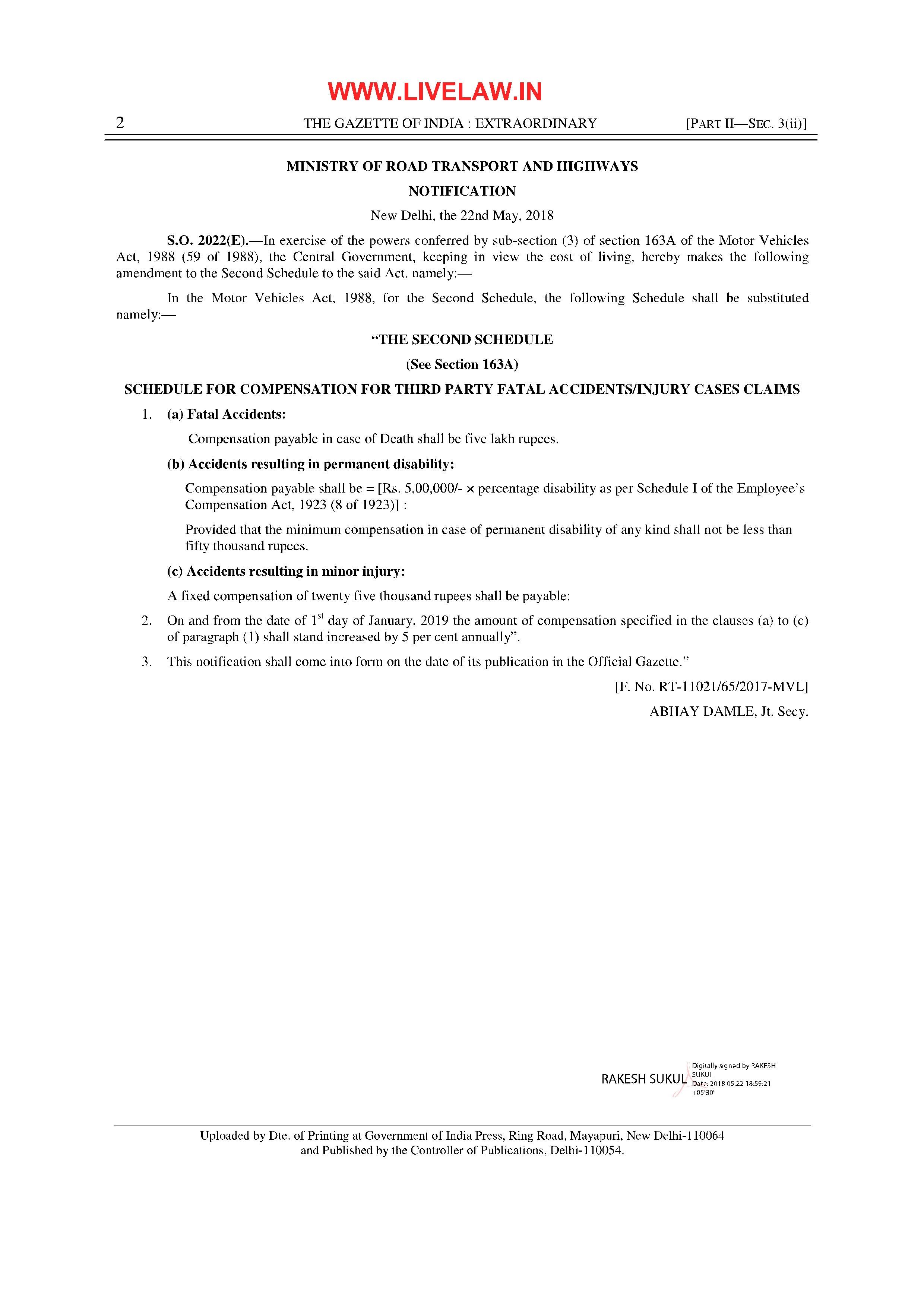 The Central Government has issued a notification to amend the compensation scales for motor accident claims under Second Schedule of the Motor Vehicles Act, 1988. As per the notification issued by Ministry of Road Traffic and Highways on May 22, 2018...
the compensation payable in case of death is Rs.5 lakh. In case of permanent disability, the compensation payable is the disability percentage of Rs.5 lakh. The disability percentage is to be calculated as per 1st Schedule of the Workmen's Compensation Act. Section 163A of the Motor Vehicles Act provides for 'no-fault liability'. This provision gives an option to the claimant to claim fixed compensation without proving that the accident occurred due to any fault or negligence on the part of the offending vehicle. On opting for filing claim under 'no fault liability', the claimant will be getting compensation fixed as per the scale provided in Second Schedule. This provision and the schedule were inserted in 1994.

Sub-section (3) of Section 163A empowers the Central Government to issue notifications to amend the compensation scale from time to time. However, no amendment of the compensation scale to reflect the increase in living cost was ever made since 1994. In several cases, the Supreme Court has criticised the government inaction in this regard. Before this amendment, the compensation was worked out on the basis of a multiplier-multiplicand formula, with reference to the age and income of the victim of the accident. In Sarla Verma v. DTC, the Supreme Court observed that the second schedule was full of errors, and that the formula was unworkable and cumbersome. In 2012, the Supreme Court in Puttamma case observed that the Second Schedule needed urgent amendment, as it was based on cost index of 1994.

The present amendment has done away with the formula system and fixes compensation for death Rs.5 lakh flat. The notification further provides that the amount will be annually increased at 5 percent with effect from January 2019.