8 Jun 2018
After three decades, truck axle load to be hiked by 20-25%..by Times of India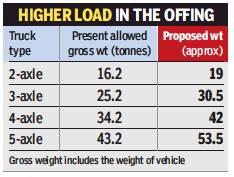 NEW DELHI: After a gap of three decades, the government will increase the maximum axle load of heavy vehicles by 20-25 per cent to bring it on a par with international norms. This will be a big boost to logistics and trucking industry and is likely to reduce the transportation cost of goods.
At present, a two-axle truck (two wheels in the front axle and four wheels in the rear) is allowed to carry 16.2 tonnes including the vehicle weight. This would be increased to 19 tonnes. Similarly, there would be about 25 per cent increase in the load for each additional axle in heavy vehicles, which is at present nine tonnes.
Allowed load of an axle is the maximum pressure between tyre and the road. Road transport minister
Nitin Gadkari
on Wednesday discussed this issue with all the private highway developers to bring them on board to avoid future arbitration.
Sources said most of the road builders admitted the construction quality has improved and overloading up to 100 per cent is common. They added truckers often avoid stretches where road builders collect 10-fold toll from overloaded trucks. Officials said the transport ministry would introduce graded penalty linked to the scale of overloading as a deterrence.
"Once the government fixes new axle load, it must stop allowing any overloaded vehicle. Any penalty, which can be passed on, can never be a deterrent. Permit of overloaded vehicles and licence of their drivers should be suspended. For repeat offence of overloading, both permit and licence should be revoked," said S P Singh of IFTRT, a think tank which has been fighting against the menace.
He added any move to compound offence of overloading goes against the concept of road safety, which the government has been harping on.
Overloading has been a menace in India resulting in deterioration of roads and increasing number of accidents. Officials said under the mechanism, which is in the works, the focus will be on ending overloading. The government has started installing weigh-in-motion bridges on highway stretches to detect overloading.