5 Oct 2017
Transporters announce 2-day strike from Monday, seek lower diesel prices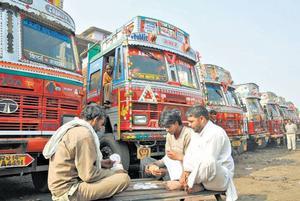 Road transporters are threatening to go on strike on October 9-10, seeking a sharper drop in diesel prices. They are also protesting against several other issues and have called for bringing diesel under the Goods and Services Tax (GST) so that there is a common diesel price across the country.
This was announced at a conference held jointly by the All India Motor Transport Congress (AIMTC), the All India Transporters Welfare Association and the All India Confederation of Goods Vehicle Owners Association at a conference here on Wednesday.
There will be a nation-wide "chakka jam" from 8 a.m. on October 9 to 8 p.m. on October 10. In case they do not get a positive response from the government, the associations said they would consider an indefinite nation-wide "chakka jam" after Diwali.
The transporters are seeking a "no registration and no compliance for any vertical" in the sector, and have also raised the issue of double taxation on sale of used business assets. Additionally, they are seeking that certified invoice of consignor should be replaced with a notified e-way bill system.
GST confusion
There is utter confusion and disruption due to the varied policies under GST that are imposed on the road transport sector, the transporters said.
Protesting against daily price fluctuation of fuel and exorbitant diesel prices, the transporters are also demanding a sharper drop in diesel prices in line with international prices.
Additionally, they have called for bringing diesel under the GST regime so that there can be uniform pricing, as also quarterly revision of diesel prices instead of the present practice of daily revision.
Kultaran Singh Atwal, Chairman, AIMTC, said while diesel prices had gone down, there had been an increase in excise duty and road cess, which is negatively impacting the farmer and the common man, apart from fuelling inflation.
Corruption on roads
The transporters also said corruption on roads had assumed "great proportions". Even after all this, we as transporters need to face unjustified barriers of tax officials and the RTOs who stop the vehicles without any complaint or reason, they added.
"A huge amount of money is paid on highways just to get rid of these government officials," alleged AIMTC, adding that no penalties or chalans should be issued without electronically verifiable proof. It also added that the authorities' power to stop a vehicle must be repealed and any stoppage en route, if warranted, must be for believable reasons or based on specific intelligence input.