9 Oct 2017
Truckers' strike: How shoddy GST implementation is wrecking road transport and logistics industry by First post..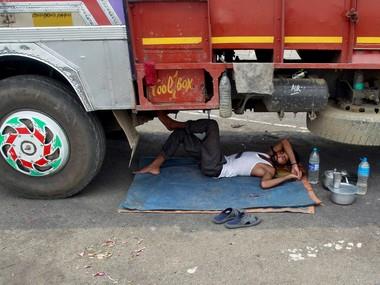 New Delhi: The government's back and forth over implementation of the E-Way bill, seen as a crucial piece of legislation for India's road transport and logistics industry, seems to characterise the pitfalls in the ambitious GST regime. Never more than now, as India's truckers and goods transporters continue to struggle with state enforcement machineries like in the pre-GST days, even as they complain about high input cost structure and under-the-radar goods' transportation continues unabated.
Under the E-Way bill facility, it was proposed that movement of goods worth more than Rs 50,000 by a registered entity will require prior online registration of the consignment on the GST portal and securing this "e-way" bill. This was meant to be a change from the present system where no electronic invoice is required and checks instead happen through border checkposts or inspectors at each state. The entity carrying the goods was to be mandated to carry the E-Way bill along with invoice/bill of supply/delivery challan. But sheer under preparedness of the GSTN network has thwarted the government and from initial implementation in October, the deadline for E-Way bill has now been pushed to April next year.
This morning, as the truckers under the All India Motor Transport Congress (AIMTC) went on strike across the country and there were fears of some shortages in essential commodities over the next 36 hours, it became clearer that shoddy GST implementation is the key to this mess. The AIMTC is an apex body of transporters and claims to represent around 93 lakh truckers and about 50 lakh bus and tourist operators across India. Their reasons for the strike are varied, including non-acceptance of the E-Way bill in its current form by AIMTC and the general rise in the cost of operations.
AIMTC President SK Mittal told Firstpost that daily fluctuations in the price of diesel were wrecking havoc on the economics of the trucking industry. The truckers' body wants the daily pricing mechanism of diesel to be dismantled and the fuel to be brought under GST. "Let us say I have a consignment to deliver to Bengaluru from Delhi, which takes about seven days. But if I find that after reaching Jaipur on the second day, diesel price has risen, what am I supposed to do? Our contracts are for six months, one year, and the price difference is then to be paid by the trucker. How can we function like this? We are demanding that the government devise a system for less frequent diesel price fluctuation, maybe fix it on average monthly basis. Daily price fluctuations are killing us," Mittal said.
Mittal said the best course of action would be to bring diesel under GST. Which is easier said than done, given the aversion of most state governments to bringing petrol and diesel under the new regime – since it will impact their revenues significantly. Besides, how does bringing diesel under GST address the daily pricing problem?
The effectiveness of the truckers' strike was called into question by S P Singh, senior fellow at the thinktank Indian Foundation of Transport Research & Training (IFTRT), who said initial reports from Delhi-NCR, South India, key national highways and the north east show "the impact of strike is not visible. Trucks are plying as usual on highways". Only, at some place in Navi Mumbai and Thane, transporters are trying to force truckers to stop work. Singh said the fruit and vegetable transportation, that of parcels by e-commerce companies during the busy festival period and transportation of cars and two-wheelers from facilities in Gurgaon-Manesar are unaffected.
It is interesting to see that just before the strike call by AIMTC, diesel prices were slashed by Rs 2 per litre as the government resorted to populism right before crucial state polls. Singh pointed out that even as diesel prices dipped, truck rentals and retail parcel freight charges rose during the same period. These charges "outpaced diesel price rise of Rs 4.65 per litre in last 10 weeks, with freight charges rising by 12-15 percent on the back of peak festival season, increased factory output, piling up of inventories before E-Way bill digital transit pass notification is enforced." Put simply, what Singh is alleging is that the truckers are already making hay even though the cost of operations has reduced in the last few weeks.
Now let us come to the government's unpreparedness and consequent deferment of the 'E-Way Bill' facility. With states dismantling border checkposts in July, when the GST regime was operationalised, the absence of mandatory E-Way bill system on GSTN portal for random checking of EBN under GST rules for consignments above Rs 50,000 has encouraged corruption by enforcement agencies and transporters on highways on behalf of unscrupulous goods suppliers. AIMTC says the E-Way bill in its current form is unacceptable; and state level checkposts continue to exist, increasing "corruption".
So what's the way out? First, truckers need to understand that the GST regime, despite its flaws and pitfalls, is the future and they need to upgrade themselves to comply with its various provisions. Second, their threats of a strike due to rising cost of operations would hardly move the government into lowering prices of diesel – taxes on such fuels account for a bulk of the government's revenue generation. And last but not the least, the government needs to improve the GSTN network for the logistics industry to begin moving forward, without rampant corruption and under-invoicing.